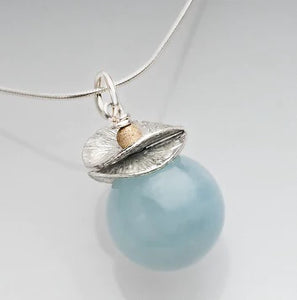 Acorn Aquamarine Necklace
Chi's Creations
Regular price $91.00 Sale
A perfect single drop "Acorn" aquamarine necklace, shimmers like the sea will be your go to piece for everyday anytime!
Sterling silver brushed double petals with gold-filled bead and large aquamarine on sterling silver snake chain.  
Chain Length: 20"
Aquamarine is the birthstone for the month of March. The seawater color of aquamarine has given this gemstone its name as the name "aquamarine" is derived from the Latin word for sea water.  Since early times, Aquamarine has been believed to endow the wearer with foresight, courage, and happiness. It is said to increase intelligence and make one youthful.
In ancient lore, aquamarine was believed to be the treasure of mermaids, and was used by sailors as a talisman of good luck, fearlessness, protection and prevent seasickness.  It was also considered a stone of eternal youth and happiness.  
*  Aquamarine Boost Courage

*  Stimulate Clear Communications
*  Calmness and promotes safe travels
Exquisitely crafted, fine designer jewelry made in Vancouver. Made in Canada.