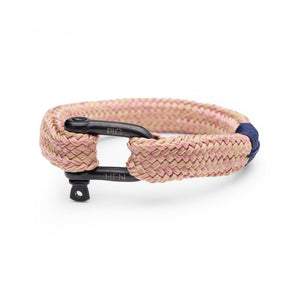 Gorgeous George Pink Sand Bracelet
PIG & HEN
Regular price $91.00 $68.00 Sale
Some people are born with a pretty face, Gorgeous George wasn't. Not that he cares – a pretty face won't save you while roaming the crashing and churning waters along the Atlantic coast. Above all, he knows very well his brain is worth a million and all the shipmen rely on his deep knowledge of the sea.
George has a 5mm shackle and is 11mm wide.
The materials used will survive a life time and the colour will not fade over time. The shackle is forged out of stainless steel and could show some wear and tear.
All the PIG & HEN products are for life and are handmade with passion in Amsterdam