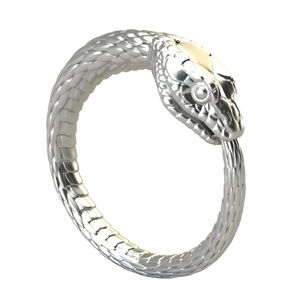 Infinity Snake Ring
AnimalStone
Regular price $175.00 Sale
The snake eating its own tale is an ancient symbol known as an Ouroboros. This ancient Egyptian iconography symbolizes the infinite cycles of death and rebirth. 
Our Ouroboros Snake Ring depicts a finely textured Snake with the tip of its tail in its mouth. Each scale on the snakes body is defined and carefully finished to bring out the finest details of this elegant creature. 
Whether your someone who likes the meaning behind the symbol or you have an affection for snakes, this striking piece is a meaningful gift for yourself or someone you love, a nature lover or a warrior who needs reminding that all things come and all things go. Honour a milestone or the beginning of a new cycle with this timeless piece of fine jewelry. 
Handmade in Toronto