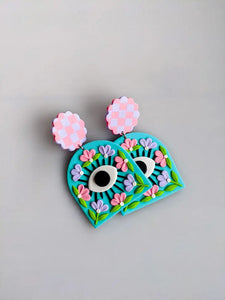 Large Turquoise Evil Eye Dangle Earrings
Slow Day Studios
Regular price $45.00 Sale
These statement evil eye dangles are handmade with polymer clay, and they are super lightweight despite their size, and are the perfect bold pair. All floral detailing is hand done and made in canada. All findings are surgical stainless steel. 
Height: 2.75" Width: 1.75"
Important Information
⋒ These items are all handmade, therefore there will be differences and imperfections between each pair. No two pairs are the same! 
⋒ Backings and jump rings are made of surgical stainless steel, and will not irritate your ears.
⋒ Polymer clay is extremely durable and lightweight and will not weigh down your ears.
Care Instructions
⋒ Store in a clean, dry place.
⋒ Use of oils, creams, perfumes, etc may affect longevity. If you need to clean your item, use a bit of rubbing alcohol on a q-tip or gently wash your item with a touch of dish soap.
⋒ May break if dropped or bent. Polymer clay is very flexible and durable but do not try to bend your items because this may damage them.
⋒ Due to the nature of the delicate detailing, please handle with care!