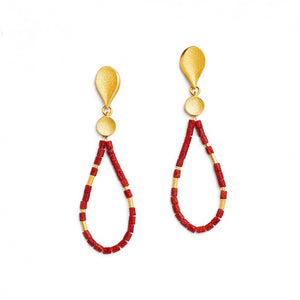 Clino Red Coral Earrings
Bernd Wolf
Regular price $370.00 Sale
Whether complementing a little black dress or an elegant evening gown, the creations from the Cleopatra design line are genuine eye-catchers.
Characterized by the graceful elegance of gently flowing lines, these pieces superbly emphasize their wearer's femininity and unique personality.

The top quality sponge coral used by Bernd Wolf is striking. This widespread, fast-growing coral is not a protected species, and only minor amounts are used for jewellery. Sponge coral is characterized by highly disparate textural patterns, so each of Bernd Wolf's exquisite sponge coral creations is a genuinely unique piece.
24k high-grade gold plated sterling silver

60mm
Handmade in Germany